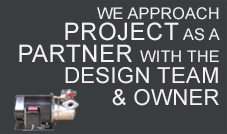 CONSTRUCTION
Proportion's network of construction professionals rises to the challenges associated with a diverse buildings portfolio, bringing added value to every commercial, institutional, educational, industrial and residential project.
 
While Proportion is better known as a building construction company for larger projects, such as industries, sports facilities and office towers, the organization also excels at smaller unique projects, such as renovations, restorations, and repairs.
The right contractor offers substantial construction experience, competitive pricing, financial strength, integrity, and a commitment to your project that is supported by a foundation of quality and workplace safety.
More importantly, the right contractor has a consistent track record of coming through for first-time and repeat clients, no matter the project size or complexity. You can trust Proportion to be that contractor.
Proportion offer many services as part of our preconstruction process including:
- Estimating
- Feasibility Studies
- Planning & Scheduling Programs
- MEP Review
- Constructability Review
- Risk Management
- Market Analysis
- Cost and Quality Control

Construction: Throughout the construction process, we offer additional services, consultation, and guidance on items such as:
- Approval & Certification Pursuance
- Progress Monitoring
- Change Order Management

- Labour Relations
- Self-Perform
- Ongoing Quality and Safety Programs

Post-Construction: A project isn't complete just because the construction phase is done. Proportion offers additional services to help ensure a successful handoff of your building and ongoing success for the project including:
Commissioning
- Lien Releases
- O&M Manuals & Warranty Information
hand-off
- Project Closeout pre-populated with building
data
- One-Year Walkthrough